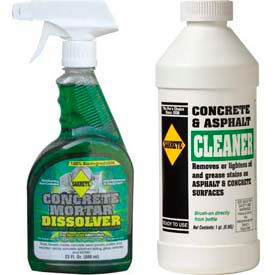 See all 3 items in product family
Sakrete® Concrete And Asphalt Cleaners Are Used For Individual, Commercial And Industrial Surface Maintenance Applications.

Choose from a selection of quality cleaners to meet the particular surface maintenance requirement. Coverage depends on thickness of application. Concrete & Asphalt Cleaner removes or lightens grease and oil stains from blacktop and concrete surfaces. Available in a 1 quart bottle. Concrete Mortar Dissolver is a safe, environmentally-friendly liquid alternative to aggressive acid concrete removers. Can be used to remove cured cement, concrete, mortar or stucco from most surfaces. Available in a 5 gallon pail or 23 oz. bottle.


Click for more