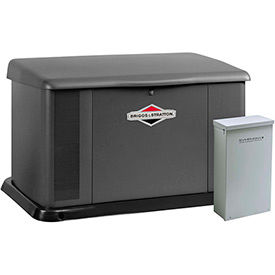 See all 23 items in product family
Briggs & Stratton® Standby Generators Are Used As Back Up Generators.

Briggs &: Stratton® Promo Rebate Offer!
Purchase a Briggs & Stratton® 20kW Standby Generator and Receive a Free Snapper® Leaf Blower Kit!
Limited Time Promotion Offer Valid 2/25/2019 through 3/29/2019.

Briggs & Stratton® Standby Generators are made of rust resistant galvanized steel or aluminum for long lasting durability. Fully automatic operation. Diagnostic alerts include External, automatic gas shut-off valve, low pressure regulator and thermally pr. Takes Liquid Propane or Natural Gas fuels. Volts are 120/240 or 240. Watts are 8,000, 10,000, 12,000, 16,000, 17,000 or 20000.


Click for more