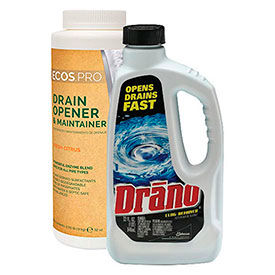 See all 47 items in product family
Drain Openers And Deodorizers Are Used For Cleaning And Eliminating Odors From Clogged Drains.

Drain Openers are available in a wide selection of brands and products used for opening up clogged drains and eliminating the odors derived from them. Reliable brands include Beyond Green Cleaning, Big D, Champion Sprayon®, Clorox® Liquid-Plum®, Drano®, Drano® Max Gel®, Dymon®, Dymon® Liquid Alive®, Earth Friendly Products and Misty®. Various applications and formulas include Clog Remover, D-Limonene Degreaser, Drain Buster, Drain-Time Plus, Earth Enzymes, Enzym D, Enzyme Producing Bacteria, Halt Liquid Drain Opener, Heavy Duty Clog Remover, Liquid Clog Remover, Scale Remover and Sewer D. Available in wide range of Aerosol, Bottle, Pail, Drum or Shaker type quantities.


Click for more