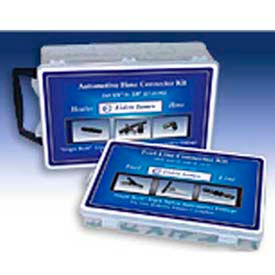 See all 31 items in product family
Eldon James Fitting Kits Are Designed For Use In A Variety Of Applications, Including Fuel Lines, Vacuum Systems, Medical Products, General Use And More.

Eldon James Fitting Kits are made ofBlack Nylon, Glass Filled Black Nylon, Gray Kynar®, Natural Kynar®, Polypropylene orHigh Density Polyethylene. Fittings are specifically designed for durability and reliability. Choose fromAutomotive orNatural material types. Kits include couplers, reducers, plugs, elbows, tees, Ys and nipples. Be sure to choose the proper kit for the job at hand. Available in package quantities of 22, 34, 36, 42 and 48 fittings. Fittings come 2 per size. Chemical resistances and temperature resistances vary from model to model.


Click for more