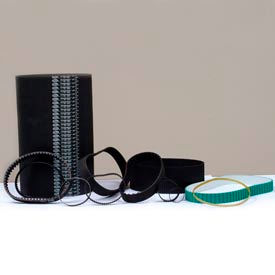 See all 3 items in product family
Trapezoidal Timing Belts Are Designed For Power Transition Applications In Motors.

Trapezoidal Timing Belts are made from Urethane with Kevlar reinforcements to provide long-lasting durability. Belts utilize the positive engagement of the toothed belt with another set of teeth on the pulley. Positive tooth engagement provides large accelerations at high speeds with a speed ratio of 20:1. Low belt tension provides for small-bearing loads and improves belt lifespan. Trapezoidal belts have a 2/25 inch pitch and are 1/4 inch wide. There are no metal-to-metal contacts, so no lubrication system is needed. Belts are available with 33 to 515 teeth in a variety of lengths up to 41 1/5 inches.
Click for more