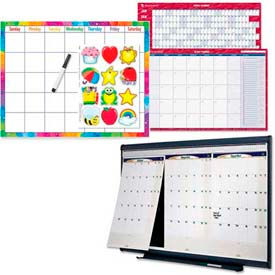 See all 18 items in product family
Dry-Erase Calendars Are Used For Reusable Month To Month Timekeeping Applications.

Dry-Erase Calendars are made for long lasting durability and dependability. Trend®, Avery® and Quartet® brands offer a wide selection of dry-erase calendars to meet particular job or timekeeping requirements. Write-on/wipe-off surfaces allow easy changes and ample writing and appointment recording space. Types include Wipe-Off, Erasable, Peel & Stick, Prestige, Cubicle Motion and more. Available in 10, 17, 24, 36 and 48 inch widths and 10, 12, 18, 22, 24, 36 and 48 inches heights.


Click for more