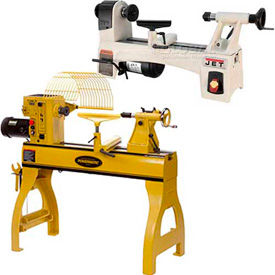 See all 6 items in product family
Wood Lathes Turn Wood Evenly To Create Chair Legs, Baseball Bats, Posts And More.

Wood Lathes are constructed using cast iron for long lasting durability and minimal vibration. Freestanding lathes include legs, workbench lathes feature wide, stable bases. Standard or Variable speeds are useful in many woodworking applications. Material capacities of 10", 12-1/2", 14-1/2", 16", 20" and 24" Diameter. Distance between centers ranges from 15-1/2" to over 42". Motor horsepowers of 1/2, 1, 1-1/2, 2 and 3. Voltages of 115, 115/230, 220 and 230.


Click for more