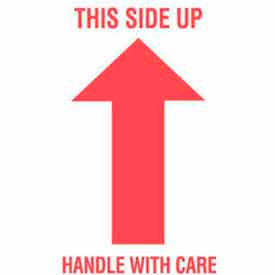 See all 28 items in product family
Arrows Provide Direction For Offices, Packaging, Warehouses And More.

Arrows are made of Paper label stock with permanent adhesive on silicone coated release paper for long lasting durability. Printed in bright and fluorescent colors for easy identification. Arrow labels showing direction of product or caution for which side up. Available signs include This Side Up, Caution Top Heavy, This Side Up/Handle With Care, Up and Arrows Up. 500 per roll on 1-1/2" core unless otherwise noted. Available colors are Flourescent Green/Black and Red/Black, Red/White, White/Black, White/Orange/Black/Green, White/Red and White/Red/Black. Lengths and widths vary per model.


Click for more