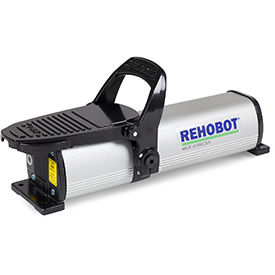 See all 4 items in product family
Rehobot Air / Hydraulic Pumps Provide A Trouble Free And Ergonomic Way To Generate Hydraulic Pressure For Workshops And Other Industrial Areas.

Rehobot Air / Hydraulic Pumps have built in release valves that return oil to the tank to provide optimum performance. Safe, internal overflow, integrated safety valve, high oil-flow, sight level glass and robust aluminum design provides operational safety. All pumps are equipped with silencers. Air/Hydraulic Pumps have 10,000 PSI. Oil capacities are 61 and 152.6. Weights are 13, 15.4, 23.1 and 22.3 lbs. Valve alternatives include FP with foot pedal for controlling start/stop and releasing and MLD - with lever control valve for double acting hydraulic operation. No adapter needed as the gauge can be connected directly to the pump.


Click for more