See all 45 items in product family
High Dexterity Gloves Provide Protection For Shipping, Framing, Cement-Mixing, Automotive Work And Aircraft Assembly.

High dexterity gloves are equipped with extra palm padding to provide finger protection and long lasting durability. Rubberized for knuckle protection. Wind and waterproof. Types include Insulated, Lined, Maximum Safety KV, Maximum Safety Thermo, Mechanics Plus, Pro Series, Knuckle Protection, Summer or Winter Series Dorsal Impact and more. Sizes range from S-2XL.. Colors include Black, Blue, Black/Hi-Vis Lime or Hi-Vis Yellow, Brown/Black/Yellow, Gold/Black, Hi-Vis Yellow, and Red.


Click for more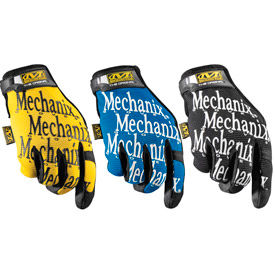 See all 12 items in product family
Mechanix Wear® High Dexterity Gloves Are Used For Intricate Fabrication Of Sheet Metal, Welding And Bodywork.

High Dexterity Gloves are made of 100% genuine leather construction with three heat-resistant cowhide panels on heel, inside, and outer edge of palm for long lasting durability and user comfort. Finger tip reinforcements of index, middle and ring fingers provide addiotnal dexterity. Dual-layer leather knuckle band and suede deerskin top and fingers provide additional strength. Stretch Kevlar® protective wedge insertand oversize, easy-entry, hook and loop closure. Available styles include Fabricator Gloves, FastFit Gloves, M-Pact 2 Gloves and Original Gloves. Sizes range from Small to 2XL. Colors are Black/Orange, Black, Orange, Blue, Camo, Covert, Red and Yellow.


Click for more