See all 19 items in product family
String Gloves Are Cool, Breathable And Washable For Light-Duty Applications Around The Home Or Workplace.

String Gloves keep hands warm and protected during material handling, gardening, cold days and other activities. Gloves are made of comfortable cotton, polyester, and acrylic materials for long lasting durability and reliability. Fingerless styles allow exposure of fingertips for touch sensitive applications. Models with PVC dots on palms and fingers provide non-slip grip for added safety. Some styles are ambidextrous for added convenience. Sizes are S, M, L, Men's, and One Size. Colors include Gray, Natural, Natural White, White, White/Black and White/blue. Package quantities vary per model.


Click for more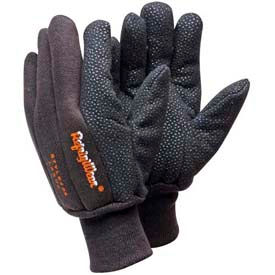 See all 18 items in product family
Refrigiwear Dotted Grip Gloves Provide Secure Finger And Hand Grips During Inclement Work Conditions.

Refrigiwear Dotted Grip Gloves are made of 7 gauge poly cotton knit, mid-weight poly/cotton string knit, acrylic knit or polyester with PVC dots for secure grip and long lasting durability. Waterproof, breathable barrier and special linings for padded impact protection and warmth. Available sizes are S/M, S, M, L, L/XL and XL Colors are Blue, Brown, Gray, Natural, Orange and Silver Styles and materials vary.


Click for more