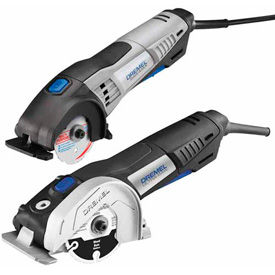 See all 2 items in product family
Dremel® Ultra-Saw™ & Saw-Max™ Multi-Saws Handles Dremel Saw-Max Applications And More For DIYers.

Dremel® Ultra-Saw™ & Saw-Max™ Multi-Saws have a 7.5 Amp motor and a durable drive train for power and long lasting durability. Ultra-Saw power allows for long cuts. Metal foot and guard resist heat generated by heavy-duty jobs like grinding and cutting metal. Large, 3.5- and 4" cutting wheels provide fast cutting speeds and improved performance in a wide variety of materials. Dremel Ultra-Saw can also remove paint, rust and thin-set mortar from metal and concrete. Excellent line of sight provides precise, confident cuts. Available models are SM20 and US40 with 13,000 or 17,000 RPM. Kit includes Multi-Saw Tool, Diamond Surface Prep Wheel, Carbide Wood Cutitng Wheel, Metal Cutting Wheel, Carbide Wood Flush Cutting Wheel, Auxiliary Handle and Storage Bag.


Click for more