Ladder Safety & How It Affects Everyone
The 2 most common ladder accidents include missing the last step when climbing down and overreaching. ***
+137
Ladder Injuries every day**
6-10

ft.
The most common ladder falls happen between 6 and 10 ft. off the ground
$17.1

b
$17.1 billion is spent on workplace falls from working at heights*
Top 3
Falls are in the top 3 most common disabling workplace injury*
#6
Ladders are #6 on OSHA's Top 10 Most Cited Violations list.
Liberty Mutual Workplace Safety Index" - United States, 2018, Liberty Mutual
Occupational Ladder Fall Injuries" - United States, 2011, Centers for Disease Control and Prevention
ALI Ladder Safety Training and Citation Report" - United States, 2018, American Ladder Institute
Rolling Ladders
Ideal for use in warehouses, stockrooms, and manufacturing. Mobile, fixed height, self-supporting ladders often include handrails and guardrails for added support and stability when in use.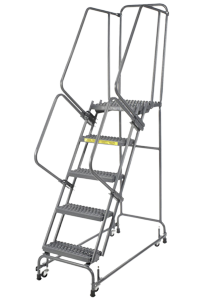 Industrial rolling ladders are built to take heavy everyday use.
General Use
Durable
Economical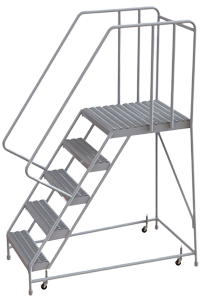 Lightweight aluminum rolling ladders are perfect for use where corrosion is a problem.
Non-Magnetic
Non-Sparking
Corrosion Resistant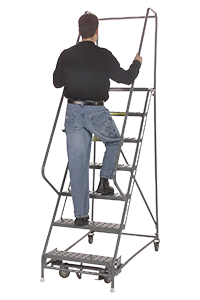 Rolling ladders are made of durable type T304 stainless steel to provide long lasting strength for use in wash down and corrosive environments.
Corrosion Resistant
Withstands Frequent Washings
Provide increased stability when working at elevated heights. The large platforms commonly feature slip-resistant treads for added safety. Crossover platform ladders are used for crossing over structures found in industrial environments such as machinery.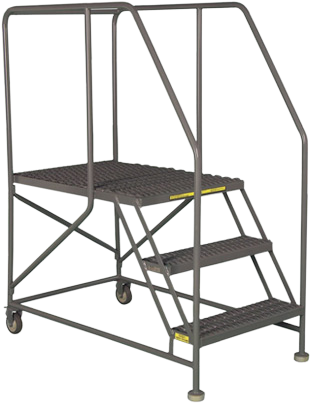 Shop Now
Portable ladders with flat steps and hinged designs for ease of storage and use. Models with built-in tool holders secures tools and keeps them handy. Available in fiberglass, aluminum and steel.
Ladder Duty Ratings
Indicates the maximum weight capacity each step ladder can safely carry. Capacities include the user's weight plus the weight of clothing, protective equipment, and tools/supplies that are being carried and/or stored on the ladder.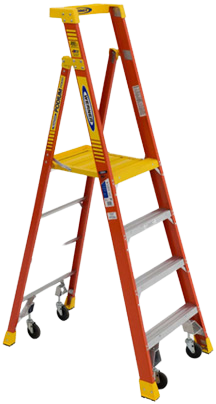 Shop Now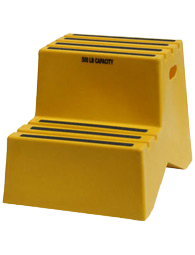 Shop Now
Available in fixed and adjustable heights in plastic, aluminum, steel and stainless steel to meet any application. Step stands are portable and are usually used to reach lower heights.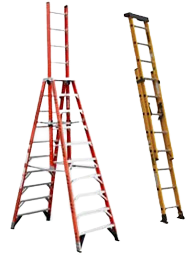 Shop Now
Portable ladders that are adjustable in length. Extension ladders consist of two or more sections that travel in guides/brackets to achieve the desired length. These ladders are not self-supporting and require a stable structure such as a building or wall in order to safely use.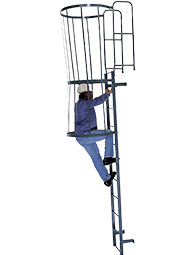 Shop Now
Are vertical ladders that are permanently attached to a structure such as a wall or building, and are commonly used to access roofs or other industrial structures.