Your Workbench Should "Work" For You!
Many workers may raise an eyebrow at the idea of performing tedious, labor-intensive tasks on an unstable, insufficient work surface. Individuals who work in laboratories, workshops and other industrial or manufacturing environments know the importance of having a work surface that 'works' for them. And usually, that work surface is a workbench that is designed specifically for the task at hand. Workbenches come in a variety of sizes and should be selected based on the type of work they are being used for. They can be constructed of hard-wearing materials ranging from steel, plastic or wood and usually provide convenient storage or mounting space to create a multi-functional work area.
Within Arms Reach
Having materials within arms reach is one of the most important functions of a good workbench. When a workflow is kept in a compact, organized space, it enables workers to be more productive while preventing muscle strain or stress. Many workbenches are equipped with bins, shelves, cabinets, drawers and other accessories to allow quick, easy access to necessary parts or tools. Workbenches that feature height adjustable legs can also be beneficial. These benches allow individuals of different heights to elevate or lower the workbench to a comfortable work position. They are also ideal for tasks that require sitting and/or standing for extended lengths of time.
Whatever Your Environment, We have The Workbench For You!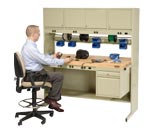 In The Workshop!
Premier Electronic Workstation
With this workbench you can have all the materials you need for electronic jobs at your finger tips. The electronic workstation features a built-in overhead cabinet, a lower shelf and a modesty panel. Three locking cabinets are mounted to safety store manuals and supplies. A bin rail accommodates multiple bins for small parts and components. This workstation is also available with an anti-static bench top for safe handling of electronic items. Purchase the optional Outlet Strip and an Electrical Kit for the Overhead.
Browse Electronic Workstations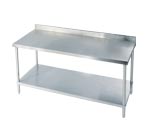 In The Laboratory!
Stainless Steel Workbench
For applications in laboratories or food service areas, easy-to-clean Stainless Steel workbenches provide added durability. The 18 gauge, 430 series stainless steel top with 2 heavy gauge channel supports provide unbeatable stability. These benches also feature a backsplash for spill or splash containment. The adjustable lower shelves provide plenty of space for storage and the adjustable legs accommodate the heights of multiple users.
Browse Steel Workbenches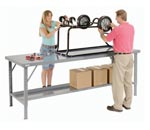 On The Assembly Line!
Heavy-duty Extra Long Folding Assembly Bench
If you are in a work environment that handles large packing or heavy-duty assembly operations Extra Long workbenches may be ideal. These extra long benches can help reduce overcrowding on work surfaces for tasks that are performed in teams. The benches also conveniently fold up when they are not in use. Height adjustable legs provide a comfortable work position based on the task or user. And for an even bigger work surface place these workbenches side by side!
Browse Assembly Benches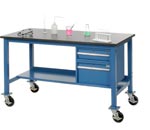 On The Go!
Mobile Workstation
Mobile Workstation These workbenches feature 5"diameter non-marring locking swivel casters for mobility and an 18-gauge sturdy tubular steel frame to provide years of service. The work surface has 3 raised steel edges to retain contents during transport. A lower shelf provides additional storage space and the Shop Top protects against static build up and won't warp or split. This mobile workbench is designed for multiple applications in any location!
Browse Mobile Workstations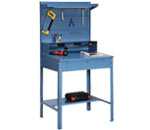 In The Warehouse!
Shop Desk
Perfect for warehouses, shipping areas, or any place where a heavy-duty workstation is needed! The height-adjustable shop desk includes a steel channel reinforced surface for great stability and durability, as well as a pigeonhole riser and a locking drawer. Cabinet shop desk features a lockable lower compartment with adjustable center shelf. The wall mount shop desk includes support brackets for easy installation against walls at any height. These desks are available with or without a pegboard riser kit, which includes steel uprights and overhead shelf.
Browse Shop Desks
Making Your Workbench "Work".
Customizing your workbench is a great way to ensure that important materials are always close by. Selecting a specific bench top can help guarantee that tasks with specific provisions, such as those involving chemicals or electronic equipment, are done on a suitable work surface.
Can't Top This!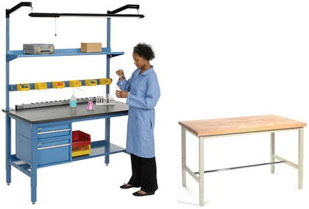 We've found that with five different bench tops to choose from, Global Industrial's Heavy-duty Production Bench can be customized to meet the needs of just about any work environment! These benches accommodate Plastic tops with a high-pressure laminate that is great for daily, multi-purpose use. They can also be used with ESD bench tops for protection against static electricity when working with sensitive computer items. For unbeatable chemical resistance in work environments such as laboratories, choose the Phenolic resin top. The durable Stainless Steel tops have a 1-1/2" thick particle board core with phenolic backer wrapped with 16-gauge, type 304 stainless steel for strength. And Maple tops are sanded smooth and sealed to provide lasting durability. This versatile Production Bench also features a sturdy 14-gauge tubular frame that holds up to 5,000 lbs. and accommodates unlimited accessories! Add a Stackable Drawer or Cabinet for additional storage space. Add an Upright Kit for shelf space and easy accessory attachment. Or add the Light Kit for greater visibility in poorly lit environments.
It all adds up to a more efficient workbench. Not to mention a 15 year warranty.
More Workbenches:
Cabinet Work Benches | Mobile Workbenches | Electronic Work Benches | Heavy Duty Work Benches | Workbench Systems Machine Tables & Shop Stands | Packaging Workstations | Pedestal Work Benches