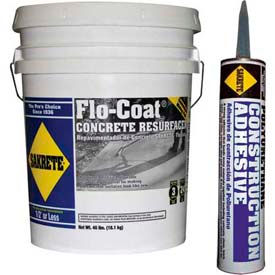 Concrete & Masonry Repair
Concrete And Masonry Repair Compounds Are Used For A Variety Of Indoor And Outdoor Applications.

A wide selection of concrete And masonry repair offerings to meet the particular need or application. B-1 Trowel Grade Leveler and Underlayment is a trowel grade, polymer modified cement-based floor underlayment for interior applications. Concrete & Mortar Repair Squeeze Tube for caulking cracks in concrete, mortar, masonry or stucco that are approximately 1/8" to 3/8" in width or less. Concrete Crack Filler is a ready to use, flowable polymer repair material designed to fill and seal cracks in concrete up to 1/2" wide and 1/4" deep. Fast Set Cement Patcher is a mixture of cementitious materials, sand and special additives for the rapid repair of concrete walks, floors, steps and driveways from 1/2" to 2" in thickness. Flo-Coat Concrete Resurfacer is for resurfacing concrete walks, slabs, driveways and patios. Leak Stopper Hydraulic Cement is used for stopping the flow of water through breaks in concrete or masonry walls or floors and can be used to stop leaks underwater. Polyurethane Self Leveling Sealant repairs cracks or fill joints in horizontal concrete surfaces. Top n' Bond Concrete Patcher is for resurfacing, patching and general repairs to concrete walks, walls, driveways, patios and masonry. Can be used for applications from 1/2" to a feather edge or brush coat. Other models available for various concrete and masonry work. Package quantities and coverage vary per model.