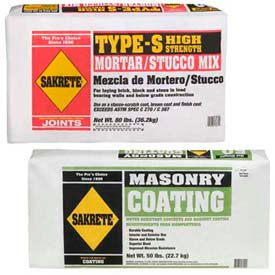 Mortar, Stucco & Masonry Mixes
Mortar, Stucco And Masonry Mixes Are Used For A Variety Of Construction Applications.

Mortar, Stucco And Masonry Mixes are high quality mixes that combine cement, lime, sand, fibers and special additives. Can be used for many commercial and industrial applications such as building, decorating and dam proofing dry stack concrete block walls. Mixes can also be used to strengthen existing mortared or dry stacked block walls. Structural applications should be designed and approved by licensed engineer. Coverage depends on thickness of application. Available in Bonding Cement, Masonry Coating, Mortar Mix and Mortar/Stucco Mix in 25, 40, 50, 60 and 80 lb. bags. Types include Surface, Glass Block, Powder, Stone Veneer, Type N and Type S. Cubic feet coverage varies per model.