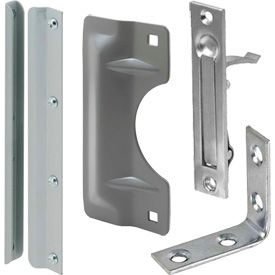 Repair And Replacement Reinforcement Plates/Braces
Repair and Replacement Reinforcement Plates/Braces Improve Entry Door Security for Schools, Public Buildings, Government Facilities, and more.

These plates/braces are made of ABS plastic, aluminum, brass, die cast, galvanized steel, galvanized zinc dichromate, stainless steel or steel for long lasting durability. Door hardware allows for quick and easy general repair and installation. Available types include Anchor, Ball Latch, Bi-Fold Door Bracket, Closer Reinforcement, Corner Brace, Door Guard, Edge Pull, Elbow Catch, Flat Corner, Mending Plate, Safety Hasp, Sliding Door Handle Set, Sliding Door Pull, T-Brace Plate and more. Color finishes are Aluminum, Antique Brass, Black, Brass, Bronze, Brushed Chrome, Oil Rubbed Bronze, Polished Brass, Satin Nickel, Steel, White, Zinc and more. Dimensions vary by model.