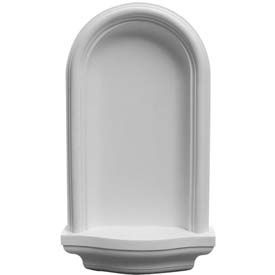 Ekena Wall Niches & Accessories
Ekena Wall Niches And Accessories Are Used For Use In Hotels, Lodges, Residences And More.

Ekena Wall Niches And Accessories have a urethane construction for long lasting durability and strength. Installs quickly and easily on a variety of surfaces. Designed to enhance interiors with rich texture and traditional appeal. Choose from Adonis, Alexandria, Artis, Ashford, Bedford, Berkshire, Claremont, Edwards, Egg And Art Flute, Emeryville, Hillsborough, IH Traditional, IH Waltz, Kent, Maria, Medway, Melonie, Odessa, Reece, Shell, Smooth and Waltz niche styles for increased versatility. Niche Shelves and Niche Caps are also available. Dimensions vary per model.