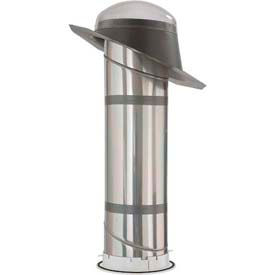 VELUX Rigid, Flexible & Commercial Sun Tunnels
VELUX® Sun Tunnels Are Used For Residential And Commercial Natural Lighting Applications.

VELUX® Sun Tunnels are solidly manufactured for long lasting durability and dependability. Impact or Acrylic domed exteriors with integral flashing and highly reflective tunnels connect roof with interior ceiling to provide bright natural lighting. Diffuser assembly at the ceiling distributes light evenly into the room while limiting bright spots and glare. Ceiling ring included for easy installation. Wide selection of Rigid or Flexible tunnel Pitched or Low Profile flashing types are available in 11-1/4 to 18 inch lengths, 29-3/4 to 39-1/4 inch heights and 27-3/4 to 38 inch depths. Rigid Curb Sun Tunnel type also available for used use in commercial applications.