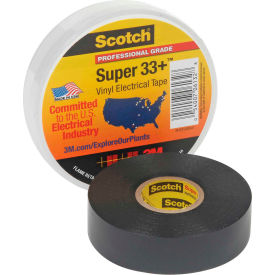 Electrical Tape Rolls
Electrical Tape Rolls Are Suitable For Industrial, Marine, General Purpose And Electrical Applications.

Electrical Tape Rolls are constructed from low-lead PVC material for lasting support and durability. Insulating tape provides strong adhesive and elastic backing for easy, water-resistant conformation to irregular surfaces in low or high temperatures. Creates permanent mold in 24 hours or in minutes with heat application. Color-coding vinyl tape available for marking safety areas and to easily identify wires, leads, splices or terminations. Available types include 35, Insulating & Sealing, PVC, Silicone Self Sealing, Super 33+ Vinyl, and Super 88 Premium Vinyl Tape. Colors are Black, Blue, Brown, Green, Grey, Orange, Red, Violet, White, and Yellow.