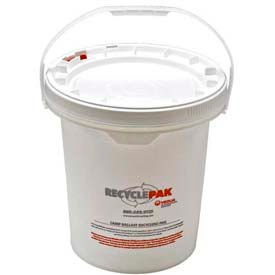 Lamp Ballast Recycling Pails
Lamp Ballast Recycling Pails Are Used For Safe, Secure Storage And Disposal Of Lamp Ballasts.

Lamp Ballast Recycling Pails have a currogate construction for long lasting durability and security. Pails include Locking Lid, 6 Mil Poly Liner and Liner Tie for added safety and protection. Also includes prepaid return shipping label, proof of purchase with serial number and online certificates of recycling for assured authenticity. Instructions and Terms and Conditions provide additional information. Choose from 6.5 Gallon Pails or 5 Gallon Pails. Capacity is 66 lbs. Pails are UN Rated And DOT Approved Recycling Containers. Dimensions vary per model.