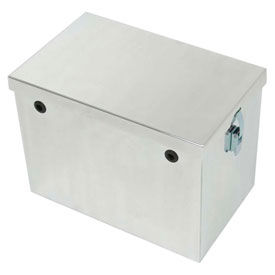 Aluminum Battery Boxes
Aluminum Battery Boxes Provide Extra Protection And Reduce Under Hood Clutter.

Aluminum Battery Boxes are made of sealed-design polished or machine aluminum to provide battery protection and long lasting durability. External vent tube, hold-downs, hold-down brackets and high grade nuts provide optimum performance. Available styles include Battery Box 12" Machine or Polished Finished and Battery Box 14" Machine or Polished Finished. Width is 11". Depths are 12" or 14". Height is 9".