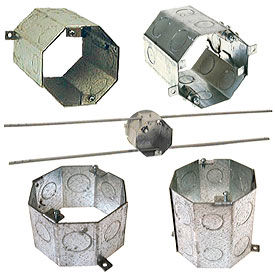 Steel Concrete Rings
Steel Concrete Rings Prevent Concrete From Interfering With Threads For Poured Deck Construction Applications.

Steel Concrete Rings are installed on wooden or steel concrete forms. After the forms are removed, the box is flush with the concrete. Flat sides provide excellent contact for locknuts. External ears are used to nail the ring to the wood form. Top cover is removable for before-pour work. Ears on inside box are for fixtures. Waxed fixture ears prevent concrete from interfering with the threads. UL listed.