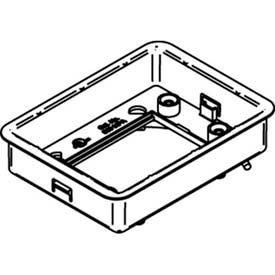 Wiremold 880 Series Floor Boxes
Wiremold 880 Series Floor Boxes Are Used For Low Density Power Or Communication Requirements In Retail Facilities, Commercial Offices, Hotels And Financial Institutions.

Wiremold 880 Series Floor Boxes are made of cast iron or steel for long lasting durability. Features a fully adjustable design for increased versatility. Screw on mounting for ease of use. Widths are 4-13/16 inch. Heights vary per model. Cover Plates are made of aluminum, aluminum polycarbonate, brass or non-metallic. Offers a snap down ring assembly for steel floor boxes. Colors are Black, Brass, Bronze, Brown or Brushed Aluminum. Package quantity is 8.