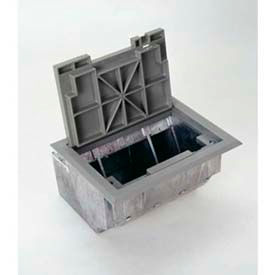 Wiremold AF Series Raised Floor Boxes
Wiremold AF Series Raised Floor Boxes Are Used For PBX Rooms, MIS Processing Rooms, University Computer Labs And Financial Institutions.

Wiremold AF Series Raised Floor Boxes are made of die-cast zinc for added reliability. Features locking tabs that secure box to floor panel for added strength and support. Units can be prewired to reduce labor costs for ease of use. Provides adequate wiring capacity and easily isolates power and communication services for greater versatility. Accepts industry standard and propriety devices from a wide range of manufacturers to provide seamless and aesthetically pleasing interfaces for voice, data, audio and video applications. In floor or screw on mounting. Cover colors are Black, Brown or Gray. Dimensions vary per model. Floor Plates are sold in quantities of 1, 10 or 25.