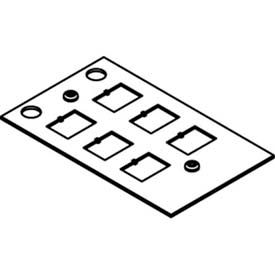 Wiremold CRFB Series Floor Boxes
Wiremold CRFB Series Floor Boxes Accommodate Multiple Combinations Of Power, Communication And Audio/Video Services For Open Office Space Environments, Conference Rooms, Schools, Stages And Altars.

Wiremold CRFB Series Floor Boxes are made of die-cast aluminum for long lasting durability. Features an integral design that keeps out water, dirt and debris for enhanced safety and protection. Units can be prewired to reduce labor costs for ease of use. Provides adequate wiring capacity and easily isolates power and communication services for greater versatility. Includes locking tabs that secure box to floor panel for added strength and support. Can be installed before or after floor coverings. 6 outlets. In floor mounting. Cover Plates And Assemblies are available in a variety of styles. Colors are Black, Brass, Bronze, Gray or Nickel. Screw on mounting. Package quantities vary per model.