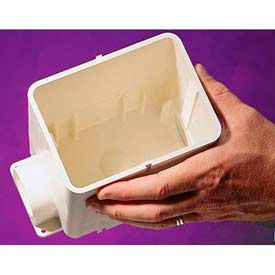 Wiremold Modulink 880MP Series Floor Boxes
Wiremold Non-Metallic Modular Floor Box Provides Power And Communication Services To Workstations Or Open Office Spaces.

Wiremold Non-Metallic Modular Floor Box is durably constructed for maximum performance. TopGuard protection keeps dirt, water and debris from entering the power and communication compartments. Large conduit openings meet customer requirements for greater communication cable capacity. Ratchet adjustable ring allows connection of cover flange without glue or mechanical fasteners to reduce installation time. Modular design allows multiple floor boxes to be ganged together to meet specific configurations required at individual locations. Interior depth markings make concrete floor installation calculations quick and easy. Cubic Capacity is 50-100 Cubic Inches.