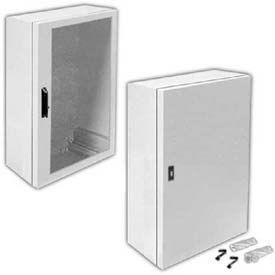 NEMA 4 Electrical Enclosures with Window
NEMA 4 Electrical Enclosures Are Used For Use As Insulated Electrical Junction Boxes, Terminal Wiring Boxes And Instrument Housings In Wet, Dusty And Corrosive Environments.

NEMA 4 Electrical Enclosures are constructed with a non metallic, halogen free self extinguishing fiberglass reinforced polyester base for long lasting durability. Feature internal three-point closing system with one-point entry. Contoured body provides attractive and contemporary appearance. Includes four threaded studs and bolts for mounting plate or mounting frame installation. Door bosses offer front panel mounts and easy to install hinged aluminum front panel. Maintenance free and corrosion resistant materials. Seamless polyurethane gasket in molded door edge channel. Patented door-lifter ensures center position during closing. Self-adhesive rain-shield included. Easily modified with conventional tools including drills, milling equipment, saws or punches. Used for high performance applications in heavy industry, paper mills, mining sites, steel mills, lumber production, refineries, chemical plants, alimentation industry and breweries, waste-water treatment, public lighting, traffic control and signalization, shipyards and offshore oil production platforms. Available in a variety of types including Bonded Window, Gasketed Window and No Window and in various dimensions. Color is Light Gray.