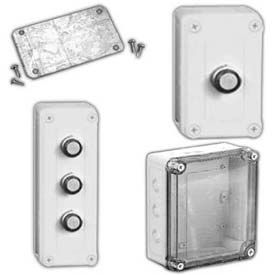 Non-Metallic Pushbutton Enclosures
Non-Metallic Pushbutton Enclosures Are Designed For Use As Insulated Electrical Junction Boxes, Terminal Wiring Boxes, Instrument Housings, Electrical Control Boxes And Pushbutton Housings In Wet, Dusty And Corrosive Environments.

Non-Metallic Pushbutton Enclosures are made with an impact and corrosive resistant Valox® 357U thermoplastic polyester cover and base for long lasting durability. VM Series available in variety of sizes and configurations. Includes opaque cover and 4 non-metallic corner screws. Molded internal bosses offers back panel mounting of components or DIN rails. ASTM D 648 up to 280°F (138°C) heat deflection temperature. Tongue, groove gasket fitting ensures tight seal. Seamless poured polyurethane gasket provides oil-resistant, watertight, dust tight seal. Material easily punched, drilled, sawed or filed. Engineered for demanding end-use environments. IP66 (IEC 529) approvals. 4, 4x, 3, 3R, 12, 13CSA UL Listed. 4, 4x, 3, 3R, 12, 13NEMA Listed. 4, 4x, 3, 3R, 12, 13 Ratings. Available in a variety of sizes and specifications. Color is Light Gray.