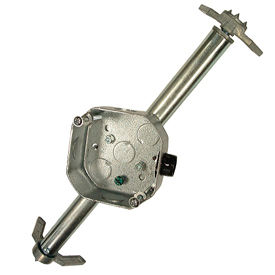 Remodeling Retro-Brace® With Box
Retro-Braces With Box Are Intended For Installation Of Heavy Lighting Fixtures Or Ceiling Paddle Fans In Old Work Or New Work Applications.

Supports ceiling fans and loads up to 70 lbs. or fixtures up to 110 lbs. Brace is adjustable for joist spacing from 16-24" without the use of tools. Nailing spurs allow easy brace position. Outlet box can be positioned in any location along the length. UL listed.