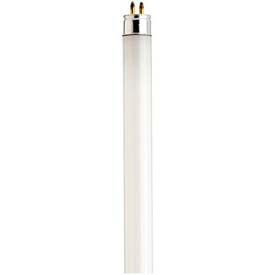 T5 Fluorescent Lamps
T5 Fluorescent Lamps Offer Superior Quality of Lighting, Increased Energy Efficiencies, and Extended Life For Industrial, Office, and Residential Environments.

T5 Fluorescent lamps provide high output and high performance with a special phosphor coating and coiled cathodes that improves lumen stability for long lasting durability. Versatile slim design creates a low profile light source for better luminaire optics and a wider variety of applications. Low mercury minimizes effects of lamp disposal on the environment. Optional black light lamps are used for theatrical special effects and in bars and restaurants for lighting effects. Available ANSI base types include 2G11, 2GX13, G5, GU10Q, and Mini Bi-Pin. Watts range between 4 and 80. Dimensions, average life spans, and package quantities vary per model.