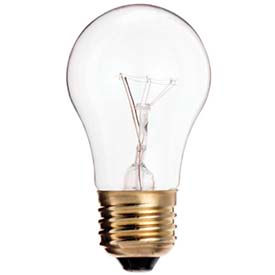 A15 Incandescent Lamps
A15 Incandescent Lamps Are Used For General Appliance Lighting Applications.

A15 Incandescent Lamps are made for long lasting reliability and dependability. One size smaller than "classic" A19 style incandescent lamps and generally used for various appliance illumination applications. Feature low initial cost, low fixture cost and simple installation. Satco and Sylvania brands offer a wide selection of Clear and Frosted type A15 lamps with E12, E17, E26/27 and Medium screw type bases and wattages of 15, 25, 40 and 50. Range from 100 to 700 Lumens.