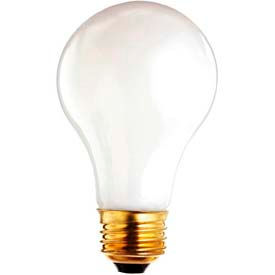 A19 Incandescent Lamps
A19 Incandescent Lamps Are Used For General Lighting Applications.

Type A19 Incandescent Lamps are made for long lasting reliability and dependability. Features a bulb design for maximum lighting performance. Simple installation. Includes packing sleeve for added protection. Available in a variety of finishes and bases. Watts are 25, 34, 40, 50, 52, 60, 67, 72, 75, 90 or 100. Available color finishes include Frosted, Yellow, Inside Frost, Silver Crown, Frost Shatter Proof, Transparent Blue/Red/Green/Yellow, Clear and more. Voltage, average life span and package quantity vary per model.