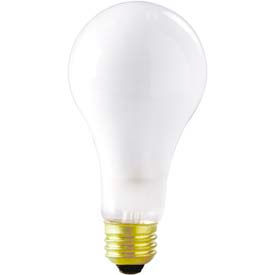 A21 Incandescent Lamps
A21 Bulbs For Reading Lamps, Wall Sconces, Chandeliers And Other Commercial And Residential Lighting Applications.

A21 Incandescent Lamps are made for long lasting durability and dependability. Larger bulb and longer neck provides a better fit than standard household bulbs for deeper lighting fixtures. Includes packing sleeve for added protection. Available wattage ranges from 30 to 250 watts. Lumens range from 610 to 3930. Color finishes include Clear, Frosted, Natural Day Full Spectrum in Clear or Frost, Safeline, Soft Pink, Frost Shatter Proof, Standard, Soft White and White. Dimensions, average life span and package quantities vary per model.