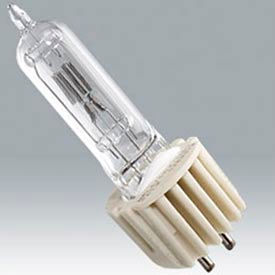 Stage & TV Tungsten Halogen Lamps
Stage And TV Tungsten Halogen Lamps Are Used For Entertainment Lighting Applications.

Stage And TV Tungsten Halogen Lamps are made for long lasting durability and dependability. HPL compact four filament design lamps have patented base that allows user to quickly change lamp without opening fixture, eliminating lamp alignment and optical setting issues. Heat-Shield™ technology prevents seal failure due to high thermal radiation generated from halogen capsule. Available in 375, 575. 750 and 2000 watt, 77V, 115V, 120V and 230V units with Kelvin ratings of 3000 to 3250 and 300 to 2000 average life hours.