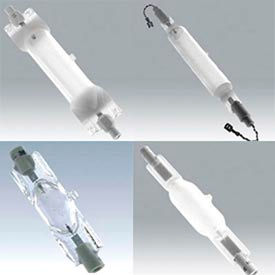 Graphic Arts UV Metal Halide Double Ended Lamps
UV Double Ended Metal Halide lamps Are Used For Blacklight Special Effects And Other High Light Intensity Commercial And Industrial Applications

UV Double Ended Metal Halide lamps contain mercury, scandium and various other metal halogens in an inner bulb that produces a very high light output. As the high temperature of the arc discharge excites the halogenides to evaporate and separate into atoms, the metallic atoms illuminate and release the predetermined target ultraviolet wavelength. The mercury line of 365 nanometers remains present, and although depressed in strength, the combination of these halogenides effect the required ultraviolet wavelengths required for photopolymer, multi-spectrum and diazo processing applications. Recessed Single Contact base - R7s. Average lamp life 500 hours. For the operation of an MHL lamp, bridge-gap ballasts designed specially for metal halide lamps should be used. A thermal fuse should also be integrated into the ballast. Available in 250, 450, 800, 1200 and 6000 watts.