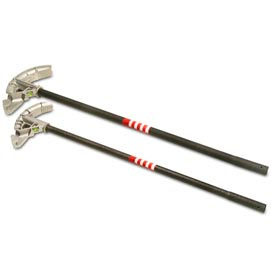 Burndy® Conduit Hand Benders
Burndy® Conduit Hand Benders Are Used For Bending EMT And Rigid Conduits.

Made using lightweight, durable aluminum. Includes embossment with sight lines for 10, 22, 30, 45, 60 and 90°. Industry standard markings for 30° bend when handle is upright. Non-slip foot pedal is contoured allowing more foot room. 3/4" and 1 bender heads have levels for making aligning easy. Designed with a channel to bend conduit back if you have an over-bend. Size range is 1/2" to 1 EMT. 5 Year Limited Warranty.