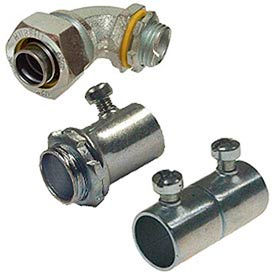 EMT Offset & Set Screw Connectors & Couplings
EMT Offset & Set Screw Connectors And Couplings Are Used For Connecting EMT Conduits To An Enclosure Or To One Another In Dry Locations.

Steel set screw connectors and couplings provide concrete-tight connections when taped. Zinc electroplated for corrosion protection. Ensures mechanical protection for raceways. 1/2 to 2 trade sizes may be installed using a slotted, Phillips or Robertson head screwdriver. 2-1/2 to 4 trade sizes are also UL listed for use on Rigid/IMC conduit, allowing for design and installation flexibility. Suitable for applications above 600V.