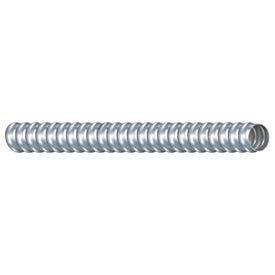 Reduced Wall Flexible Conduits
Reduced Wall Flexible Conduits Are Used For Power And Lighting Branch Circuit Conductors And Cables Such As Receptacles, Equipment And Office Partitions.

Flexible conduits can be used for voice, data, communications, video, CATV and optical fiber cables. Accepts NEC listed connectors for type FMC. Can be used in metal raceways for wire and cable connections. Used for elevators, hoist ways, and escalators. Corrosion and crush resistant exterior with smooth metal interior for easy wiring. Metal strip is helically formed to make a continuously interlocked flexible conduit. Aluminum Conduits are highly flexible and 66% lighter than steel. Made of lightweight, high strength aluminum alloy. Galvanized Steel Conduits are made with high strength steel alloy. Corrosion resistant galvanized finish. UL listed. CSA listed.