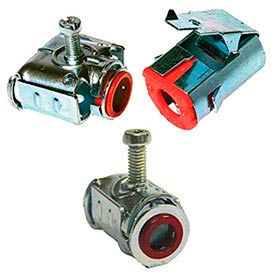 RACO® Steel Cable Connectors
RACO® Steel Cable Connectors Connect MCI, MCI-A, AC and HCF Cable To A Box Or Enclosure In Dry Locations.

RACO® Connectors are made from steel for long-lasting durability, and feature zinc electroplating for corrosion resistance. Integral insuliner provides maximum wire protection. Tri-Head Screw And Clamp Connector can be installed with a slotted, Phillips or Roberston head screwdriver. UL compliant. Redi-Loc® Connectors feature a patented snap-in design in a compact single unit for easy installation. UL and CSA compliant. Package quantities vary.