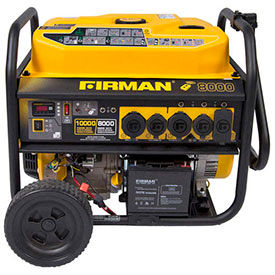 Firman Portable Generators
Firman Portable Generators Have Run Times up to 14 Hours for Power Outages and Emergency Situations.

Firman Portable Generators Performance and Hybrid Series types run cool and efficient thanks to its Phoenix Fat Head Block. The spark arrester has been approved by the USDA Forest Service. Start types are Recoil, Recoil/Electric/Remote, and Electric/Remote. Rated watts are 3650, 5700, and 8000. Fuel gallon capacities are 5 and 8. Half load run times up to 14 hours. The Volt Lock automatic voltage regulator ensures clean, consistent power output from the Power Stream alternator. 120 and 120/240V.