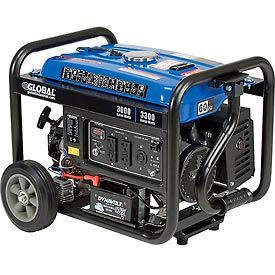 Global Industrial Portable Generators
Global Industrial Portable Generators Provide Convenient Back Up Power for On-Site Industrial, Commercial and Residential Areas. Inverter Generator Provides Compact and Mobile Power for Outdoor Areas, Camp Sites, Emergency Environments, and more.
The Global Industrial portable and inverter generator models run on gasoline for
guaranteed power during blackouts and power outages to run small tools, appliances, and other electrical devices.
Run times range from 10 - 14 hours at half load and 6.5 hours - 9 hours at full load.
Global Generators are CARB and CSA certified
. 1 year warranty. See our Generator Wattage Chart to determine the right generator for your needs.