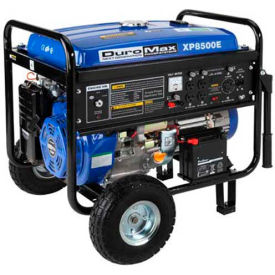 Duromax Portable Generators
Duromax Portable Generators Provide Reliable Power In A Body Small Enough For Easy Portability.

Duromax Portable Generators are made using steel for years of lasting durability. All models include a fuel gauge, low-oil shutdown and muffler for quiet operation. Generators are EPA compliant. Wattages range from 4000W up to 10,000W. Duromax models include wheel kit. Duromax models XP10000E, XP4400E, XP8500E and XP4400 are gasoline-powered. Duromax model XP4000EH is hybrid propane and gasoline power. Durostar model DS4000S is gasoline-powered and does not include wheel kit.