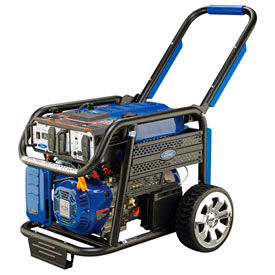 Ford Portable Generators
Ford Portable Generators Provide Reliable Power for Job Sites, Recreational Areas, Emergency Environments, and more.
These Ford portable generators offer fuel efficient and high performance power access for all environments. All models run on gasoline providing reliable power during blackouts and power outages. Recoil start is standard on all models while some generators feature an additional electric push start for easy power up. The heavy duty steel tube cradle protects unit from impact for damage prevention. The multi-featured control panel offers various outlet configurations for user ease. Most models include heavy-duty no flat wheels for reliable transport. All models are EPA approved.
Steel tube cradle
Multi-featured control panel
Start options include Electric/Recoil and Recoil
Rated watts range from 2500 to 9000
Tank sizes are 4, 4 or 20 lbs., 6.6, and 6.6 or 20 lbs.
Fuel options are Gasoline and Gasoline/LP