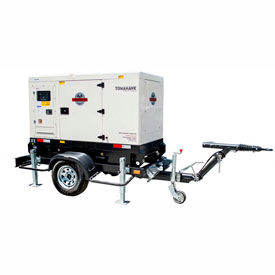 Towable Back Up Power Generators
Towable Back Up Power Generators Provide Back Up Power Source For Residential, Commercial and Industrial Environments And More.

Towable Back Up Power Generators are made of steel for long lasting durability and dependability. Generators provide accessible and convenient power for homes, hotels, restaurants, hospitals, and more. AC alternator, control module, and air inlet/outlet ensure power reliability. Sensors, electromagnetic valves, set control, and security functions provide unit safety and stability. Wide door allows convenient access for maintenance and repair. Includes wheels for ergonomic mobility and transport. Features large fuel tank capacity for increased running times. Rated watts range from 13000 -60kw. Rated amps are 26, 42, 100, and 124. Run times per hour are 24, 27, 30 (3/4 load), 31, 31 (3/4 load), 32(3/4 Load), and 42.9. Engine types include Kohler KDI 2504 TCR, Powerlink 403D-15G, Powerlink 404D-22G, and Powerlink 404D-22TG and more. Voltages are 120/208, 208/480 and 3-Position Selector. Color finish is White. Available with 4, 6 and 7 outlets. EPA approved. Dimensions vary per model.