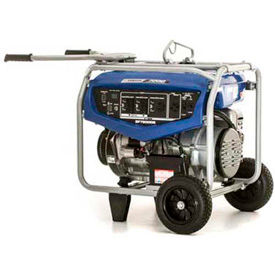 Yamaha Portable Generators
Yamaha Generators have the longest emission engine durability ratings issued by the Environmental Protection Agency (EPA) and the California Air Resources Board (CARB).

Yamaha Premium Portable Generators are constructed for Heavy Duty Commercial / Industrial Job Site abuse and are also a reliable value for consumers. Yamaha's Gasoline petcock lets you shut off the gas to run the carb dry for storage and helps prevent stale gas problems. Yamaha's Oil Watch Warning System helps prevent engine damage from low oil and provides added peace of mind. The Auto Warm-up feature automatically increases engine speed for 4~6 minutes to ensure smooth power delivery during cold start ups. 50 State Legal — Meets emission regulations, including CARB. Factory Warranty — Covers the entire generator for defects in parts and workmanship for three (3) years when the generator is used for non commercial, industrial or rental use. When the generator is used for commercial, industrial or rental use, Yamaha covers the generator for two (2) years.