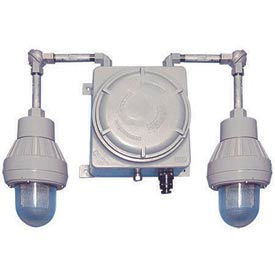 Emergi-Lite Explosion Proof Battery Units
Explosion Proof Battery Units Provide Safe Emergency Lighting In Hazardous Area Locations.

Explosion Proof Battery Units are solidly made for long lasting durability and dependability. Completely self-contained, weather resistant and maintenance-free Nickel-Cadmium power system. Strudy cast copper-free aluminum housing. Gasketed cover spins off for easy access to battery and electronics. Available in Remote or Direct mounted systems with No Heads, Single Head or Dual Heads. Meets or exceeds the requirements of UL 924, NFPA 101, Life Safety Code, N.E.C. and I.C.C. standards.