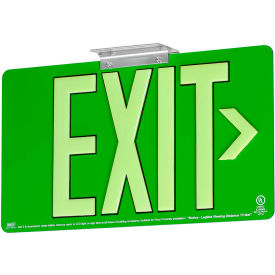 Photoluminescent Exit Signs
Photoluminescent Exit signage offer exit compliance with UL listed legible viewing distances of 50', 75' and 100'

The signs absorb and store ambient light from, fluorescent, mercury vapor, metal halide, and LED light sources, and are designed to provide emergency illumination for a minimum of 90 minutes in the event of power loss. The signs require a continuous minimum of 5 foot-candles to maintain the charge. These photoluminescent exit signs do not require AC or electrical power. All signs have a 25 year lifecycle.