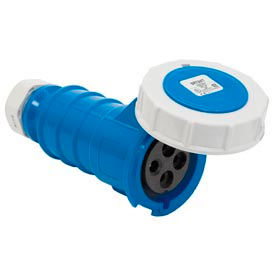 Watertight 60/63 Amp Pin And Sleeve Devices
Watertight 60/63 Amp Pin And Sleeve Devices Offer Corrosion Protection And Impact Resistance.

Toughened nylon housing provides insulation and impact resistance while protecting against warping, cracking, corrosion and chemical abrasion. Ribbing ensures secure hand grip. Spring-loaded gasketed cover protects connectors and receptacles from moisture and contaminants. Clearly-marked terminals for easy identification. Connection pins are solid brass for conductivity and durability; shrouded housing offers extra protection from contaminants. Neoprene sealing glands provide watertight connection. Self-adjusting contacts provide accurate insertion as well as a self-cleaning effect during insertion and withdrawal. Cord clamp screws fasten into threaded plated steel nuts to prevent strip-out. Terminal screws are backed out for easy assembly. Meets UL 1682 and 1686 requirements. CSA certified.