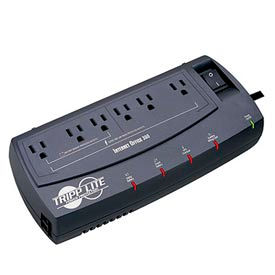 Tripp Lite Internet Office® UPS Systems
Tripp Lite Internet Office® UPS Systems Protect Internet & Network Connected Systems.

Standby UPS systems protect every size computer from downtime, damage and data loss due to power problems. Provides complete protection against all types of power problems. Compact housing is great for use on desktops. Features phone, DSL & Ethernet surge protection. Battery supported and surge-protected receptacles offer reliable battery support for PCs and monitors during blackouts. Surge-only protected outlets are used for connecting printers and peripherals without overloading the UPS system. All items are 120V.